Blog post by Mike Matei
Well, it's Elvis Presley's birthday. So I thought I'd pay tribute to the king of Rock n' Roll by giving a quick shout out to one of my favorite Elvis related flicks called This Is Elvis from 1981.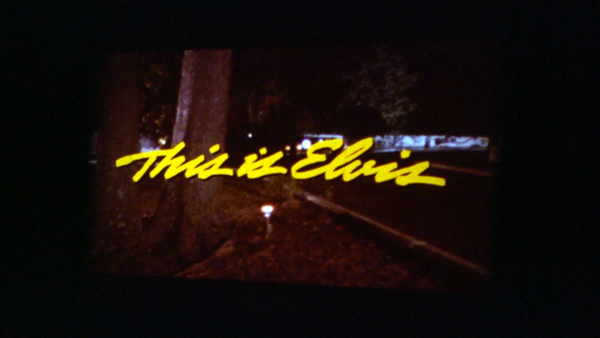 The executive producer here was David L. Wolper who I always knew from the opening credits of Willy Wonka & the Chocolate Factory.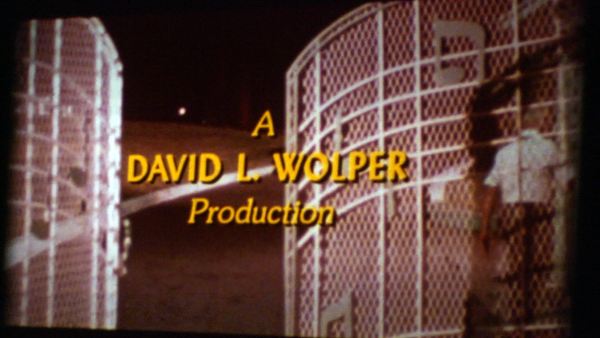 I wonder if Elvis ever saw Willy Wonka? It came out in 1971 and Elvis died in 1977 so it's certainly possible. I can just imagine Elvis laughing at Augustus Gloop while chowing down on a fried peanut butter and banana sandwich.
I recently got This Is Elvis on 16mm. The photos you see here are taken off my projector screen. After all, what better way to watch black and white Elvis footage than on actual film stock right? But don't worry, if you want to see the movie for yourself, it's available on DVD.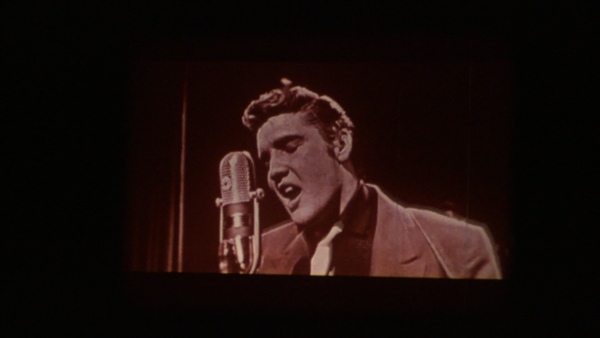 "This Is Elvis" is a documentary based on Presley's life. It combines real footage of Elvis on stage & off with reenactments and voice overs. It's cheesy at parts but does a pretty good job giving audiences a basic overview of his life and career.
The film I have is on three reels. So I'll tell you what my favorite highlights are off each reel.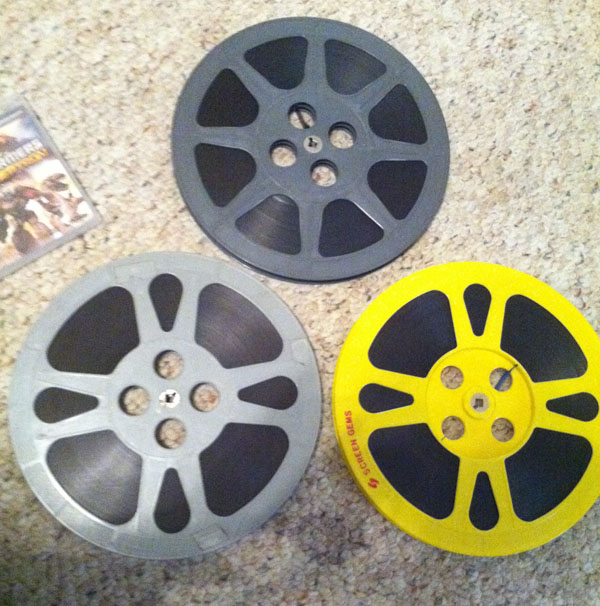 Near the end of reel one is my favorite scene in the movie. We see actual home film footage of Elvis at Graceland in the 1950's. In the footage, there's a party going on. And what a party it is! Elvis appears to be smoking some sort of unknown substance while an ape man runs amok like a lunatic!
Reel two contains a montage of Elvis's acting movies put to the song "Too Much Monkey Business". A very fitting song, since the majority of his movies were just that. I haven't been able to sit through too many of his acting films, but the montage during This Is Elvis contains a hilarious moment… During one of his movies, Elvis apparently karate chops a jaguar on the neck – knocking it out!

I knew Elvis was into Karate. His famous white Jumpsuit was modeled after a karate uniform after all. But man, I didn't know Elvis was that tough! High-Ya!
The final reel contains a funny deleted scene from the 1972 film Elvis On Tour. In On Tour, Elvis is back stage and they over dub his voice where he says "remember that girl from last night? She could raise the dead!" In This Is Elvis, they show what he really said..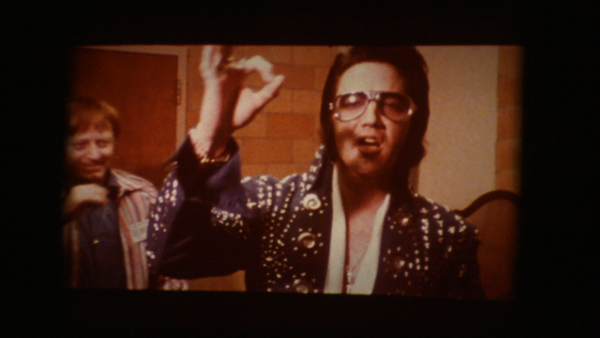 "Remember that girl from last night? She gave great head!"
Outside of those funny moments, the movie offers a lot of great footage of the king performing his hit songs on stage and offers a glimpse into his personal life. There's also some footage from his last television special "Elvis In Concert" which has never been officially released on any format. If you're a fan of his music, it's worth a watch. But only AFTER you've already seen the 68 Special, That's The Way It Is, On Tour and Aloha From Hawaii.
Well anyway, check it out if you get time. Happy 78th Birthday Elvis!