For us, Halloween is the best time of the year. As soon as there is a slight crisp in the air and the leaves start to fall we start thinking about Halloween and planning our celebrations. October is already an insanely busy month for us with Monster Madness and all, but we always manage to find some time to thoroughly honor our high holiday. Some years we spread the events out over a few weekends and other years we cram it all into a few days, but we always try to fit in all the spooky fun we can.
Usually the first thing we do, to wet our appetites for the season, is visit a local haunted attraction. The one that seems to keep us coming back year after year is Bates Motel (www.batesmotel.com) in Glen Mills, Pennsylvania. There are a lot of similar attractions in the greater Philadelphia area and we've been to just about all of them, but this one of our favorites. Another one of our favorites is the "Chamber of Horrors" at the Madame Tussauds in London, England. If you ever find yourself in the position to go there you have to do it. It's awesome! Either way, I strongly encourage you to look into your local haunted attraction and get your scare on this season.
The next most important part of the season is decorations. It's comical how much Halloween stuff we have stored away in our attic. That certainly doesn't stop us from hitting up the seasonal Halloween stores and adding to the collection though. During this time of year our "date nights" quickly go from dinner & movie… to dinner & Halloween store hopping. Our decorations change year to year and vary in how elaborate they get, but some staple items include our owls (Fred, and Baby Ned) and some skeletons. He uses dramatic lighting and fog so it looks really cool.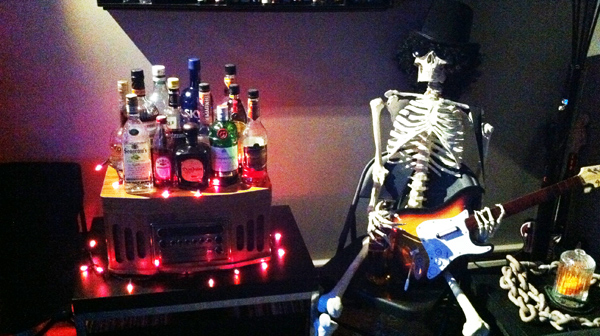 The most important decoration though is the Jack-o-lantern. There is just nothing better than a flickering Jack-o-lantern to set the Halloween mood. The last few years we've been having a pumpkin carving contest with friends. Our social circle is composed of art school survivors like us so we have fun breaking out the sculpture tools and hacking up a few pumpkins.
Pumpkin carving tips:
1. Even though it's nasty, you have to dig out ALL the guts. Really get in there. The pumpkin will last longer.
2. Cut off the bottom of the pumpkin instead of the top. That way you can use the stem as part of the design and its cleaner and easier to light the candle.
3. Slather the cut edges with a light layer of petroleum jelly. It helps the pumpkin last longer.
4. Make a template for your design. Simple can be better sometimes. This will help make sure you don't have any "floating objects".
5. Use a sawing motion instead of stabbing, you'll have a cleaner line. A serrated blade works better.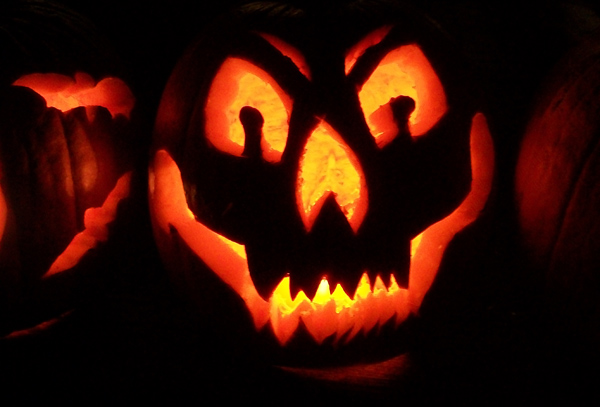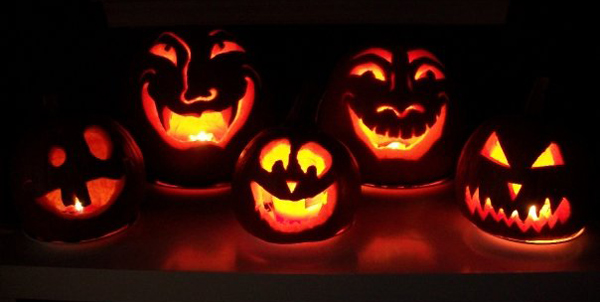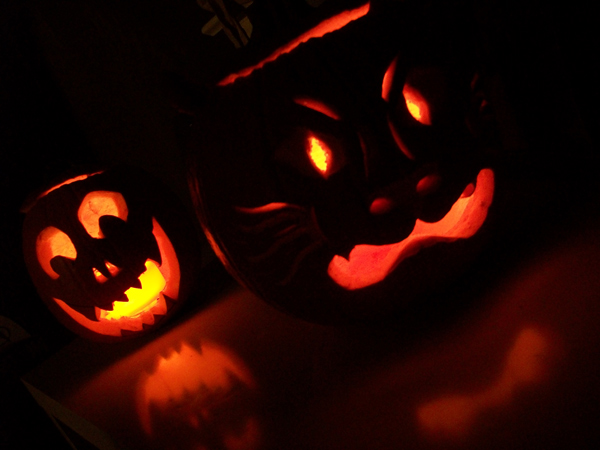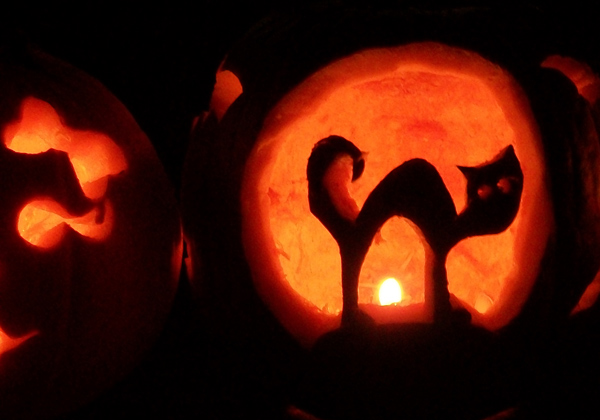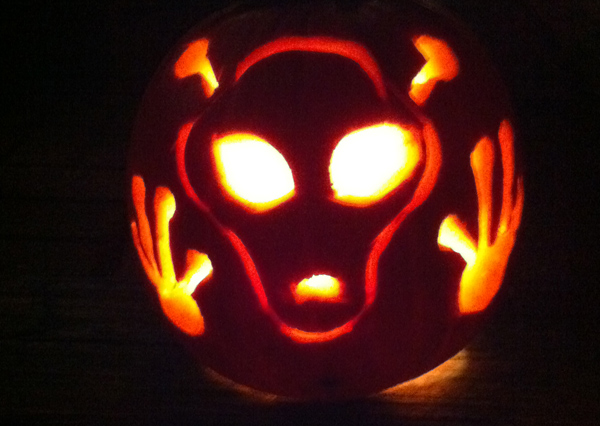 Next up, what's Halloween without the costumes? I'm proud to admit that I'm a grown woman who dresses up every Halloween. I honestly cannot remember a single Halloween in my whole life in which I did not dress up in a costume. Some year's James and I do coordinated costumes and some years we don't. Some year's they are really elaborate and some year's we just sort through old stuff and come up with something last minute. The trick is to be creative, reflect your personality and just have fun with it.
Our costumes by year:
2011 – James was Hunter S. Thompson and I was a bat.
2010 – James was Rob Zombie and I was a Day of the Dead skeleton
2009 – Rocky and Adrian
2008 – James was Indiana Jones and I was a pirate.
2007 – Batman and Cat Woman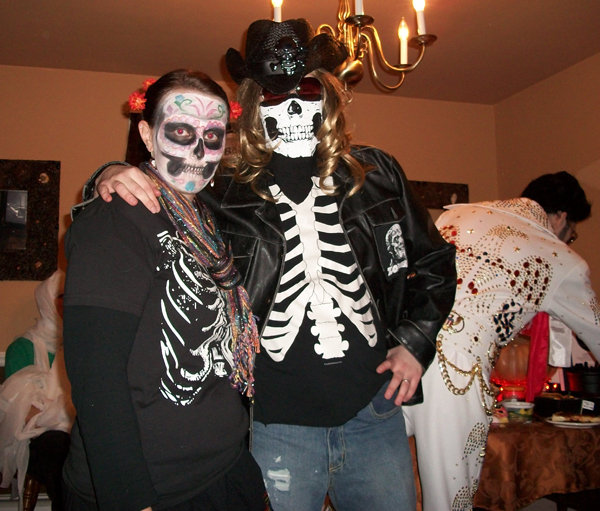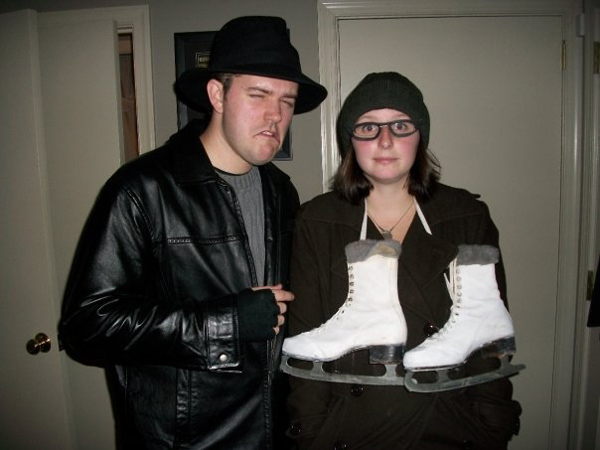 I can't remember any further back than that although we have been having parties and dressing up since we met in 2004.
Speaking of, the best part of Halloween, the party! Together James and I are a dynamite team of party throwers. James' focus is on ambiance and entertainment. He uses his film making tricks to create some cool spooky lighting throughout the house. He makes the best playlists and video loops to play on the TV's also. And of course the movies! Weather permitting, James will set up an outdoor screening of one of his 16mm films like "Abbot and Costello meet Frankenstein". I, on the other hand, am on food and drink detail. You already know my affinity for cooking and baking and for Halloween I go all out.
Some of my best menu items:
Main Course:
Hot Dog Mummies – Hot dogs wrapped in strips of pastry dough that bake up to resemble mummies. Peppercorns or dots of ketchup can be used for eyes.
Rats in Blood – Turkey meatballs shaped to look like rats with pretzel rods for tails and peppercorns for eyes with marinara sauce for blood.
Bat Wings – Buffalo chicken wings (can use soy sauce to tint sauce more black).
Dessert:
Gravestone Brownies – brownies cut into gravestone shapes with royal icing R.I.P.
Brittle Bones – vanilla bean meringue cookies shaped like bones
Baked Skulls – apples carved to look liked skulls, hallowed out and baked with goodies inside (chocolate, caramel, nuts, etc.)
Drinks:
Alien Urine Samples – Equal parts Melon liquor, Coconut Rum and Pineapple Juice served in test tubes.
Poison Apple Cider – Mulled Apple Cider spiked with Apple Brandy or Apple Gin.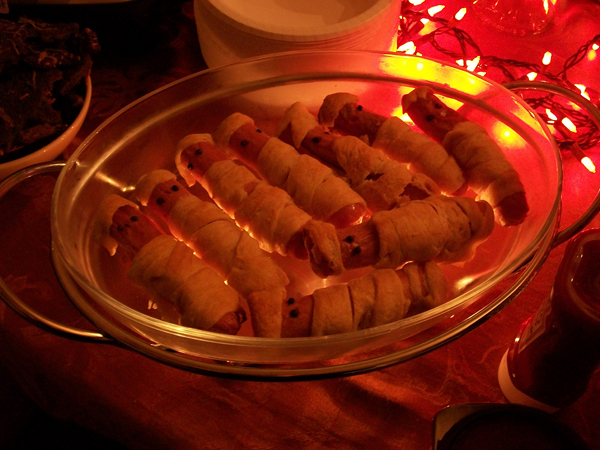 So I hope I was able to give you a little glimpse into how we celebrate our favorite time of year and I wish you all a Haunted Halloween!
-Mrs Nerd