This is what happened when they put me in charge of the horoscope section of the school newspaper. (about age 9)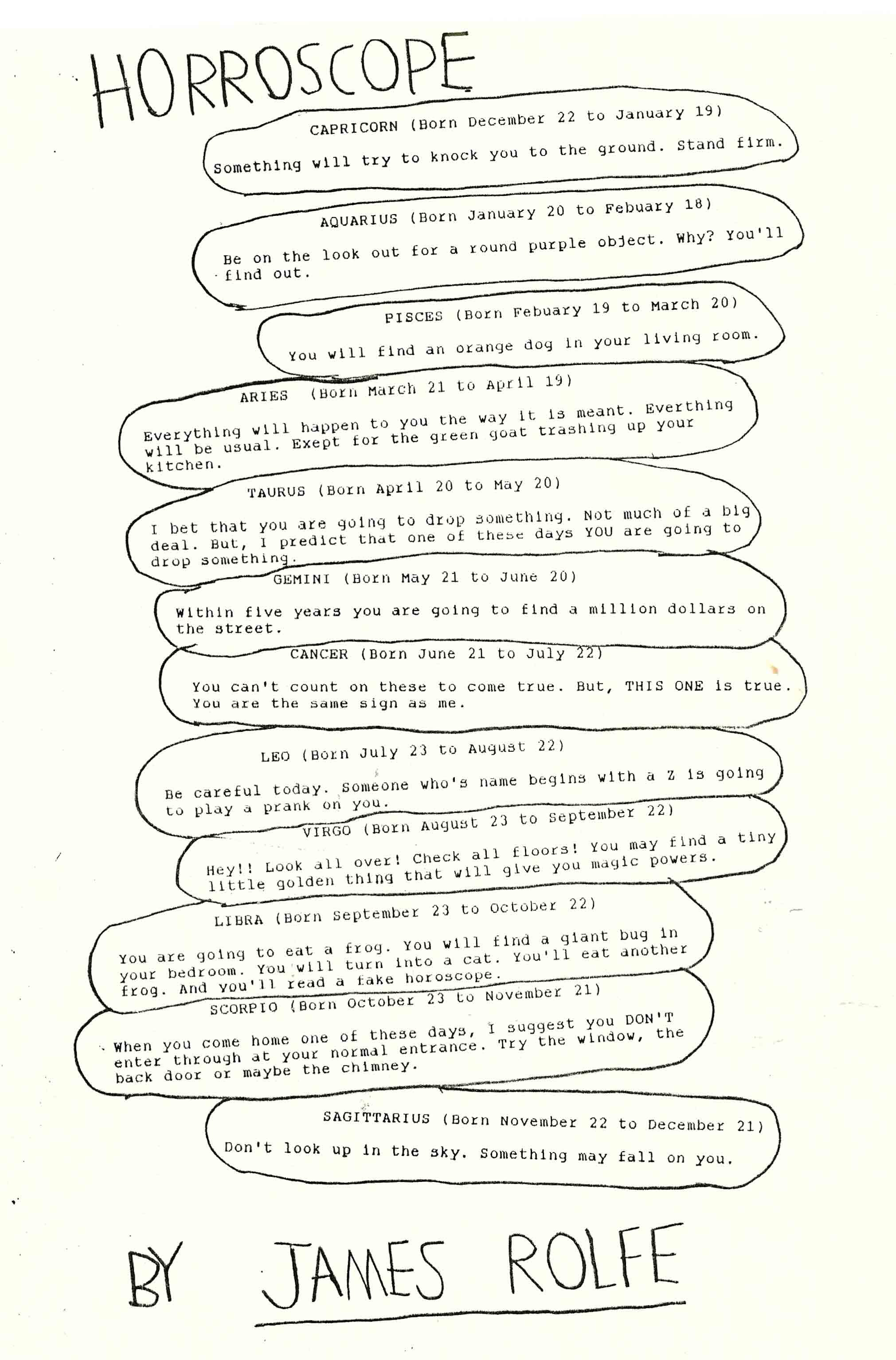 I was nuts. Let me retype it so you can read better, and so I can see how insane I was.
CAPRICORN (Born December 22 to January 19)
Something will try to knock you to the ground. Stand firm.
AQUARIUS (Born January 20 to February 18)
Be on the look out for a round purple object. Why? You'll find out.
PISCES (Born February 19 to March 20)
You will find an orange dog in your living room.
ARIES (Born March 21 to April 19)
Everything will happen to you the way it is meant. Everything will be usual. Except for the green goat trashing up your kitchen.
TAURUS (Born April 20 to May 20)
I bet that you are going to drop something. Not much of a big deal, but I predict that one of these days YOU are going to drop something.
GEMINI (Born May 21 to June 20)
Within five years, you are going to find a million dollars on the street.
CANCER (Born June 21 to July 22)
You can't count on these to come true, but THIS ONE is true. You are the same sign as me.
LEO (Born July 23 to August 22)
Be careful today. Someone who's name begins with a Z is going to play a prank on you.
VIRGO (Born August 23 to September 22)
Hey! Look all over! Check all floors! You may find a tiny little golden thing that will give you magic powers.
LIBRA (Born September 23 to October 22)
You are going to eat a frog. You will find a giant bug in your bedroom. You will turn into a cat. You'll eat another frog. And you'll read a fake horoscope.
SCORPIO (Born October 23 to November 21)
When you come home one of these days, I suggest you DON'T enter at your normal entrance. Try the window, the back door, or maybe the chimney.
SAGITTARIUS (Born November 22 to December 21)
Don't look up in the sky. Something may fall on you.