Last weekend, I was at Monster Mania, a regular horror film/pop culture convention. Here are my personal highlights.
Lloyd Kaufman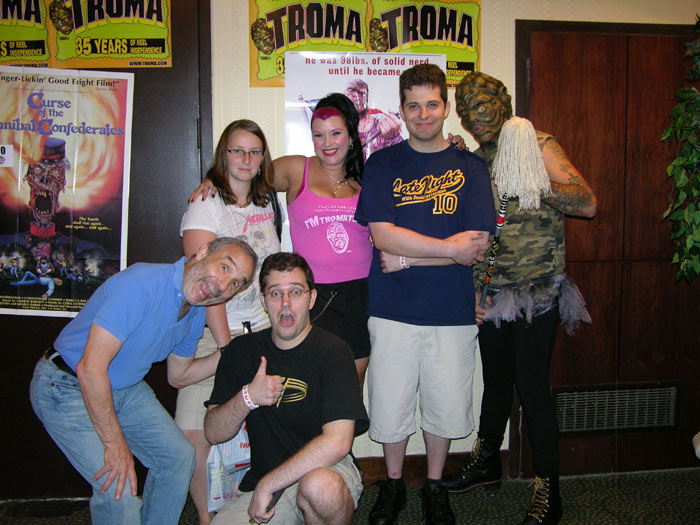 I guess you can call this a Troma/Cinemassacre family picture. You can see Mike Matei standing between the Tromette and Toxie. My wife is on the left, and in the front is me and Lloyd Kaufman. He was a huge inspiration to me, not as much because of his films, but his hilarious books, "All I Need to Know about Filmmaking I Learned from the Toxic Avenger" and "Make Your Own Damn Movie." I highly recommend both those books to any young filmmaker.
John Landis and David Naughton

I met John Landis (above) who is one of my favorite directors. (National Lampoon's Animal House, The Blues Brothers, American Werewolf in London, Trading Places, and director of the Michael Jackson Thriller video.)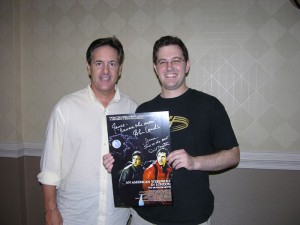 I also met David Naughton, the star of American Werewolf in London. What I'm holding is the poster for that film, one of the all-time great werewolf classics of the 80's. They both autographed it for me.
Adam West Q &A
The big event of the day was the Q&A with Adam West, star of the 1966 Batman feature film and TV series, the man forever idolized in the role and responsible for exploding Batman into the mainstream pop culture. I've seen him at conventions before and an autograph cost $40, so I turned away. I was more interested in his Q&A anyway. He also seemed kind of distant, but when he's in front of a crowd, he lights up. He conducted one of the most entertaining and funny Q&A's I have ever seen, a true showman. It was requested that there was no photography or recording of any kind. So all I have is my own words to TRY and relay how great it was.
Adam West said he just saw the film The Dark Knight for his first time (hard to believe). While he commended the film for its production value, he mocked Christian Bale's raspy voice and did his own impression, to which everyone roared with laughter and applauded. We have witnessed the classic Batman imitating the new Batman. I never imagined seeing that.
He plugged his DVD "Adam West Naked". No, it's not bat-porn, thank God, it's a personal recounting of his experiences working on Batman. There are so many great stories behind the making of that show, but nothing beats hearing some of them in person from Mr. West himself. He talked about his experiences with many of the late cast members and did an impression of Egghead (Vincent Price), The Penguin (Burgess Meredith), and The Joker (Caesar Romero). Romero was so hyper-active on the show, but West said while filming, he would sleep between takes. Once the camera rolled, he would pop up and go "Hoo! Hoo! Woa!" He said Burt Ward (Robin) would add his own lines. He wanted to come up with stuff that's better than the script, so he would spent all night trying to think of a better expression to go with "Holy ___(fill in the blank)" in which West did his best impression.
West is a regular voice on Family Guy. He plays himself, but as a mayor. When someone asked a question about the role, West really started getting energetic. He threw his arms up and said he loved it! It's a role that truly represents his personality and gives him a chance to play his self, and make fun of some of his real life quirky traits, but on an exaggerated level. He asked us our favorite lines from the show, smiling joyously, and reciting the lines back, impersonating himself on the show, impersonating himself in real life.
He made some real funny and self-aware arrogant remarks. He said he would be willing to play any role, then alternating to his deeper voice, said "just send the check." He followed that up by saying he's been doing this nonsense for 50 years, which may have been the funniest thing he said. When asked about the other actors who have played Batman over the years, he said that they were all very great actors and he enjoyed their work very much, and then in his best Adam West-voice, said "but none of them can touch me as Batman." Huge applause. Couldn't have said it better.


This image is from the very first episode, which Adam West said was his favorite. You can see how serious the show started.